Ταβέρνα Γιαλός …Από το 1979
Traditional Greek Restaurant "Taverna Yialos"
...since 1979 - in the north of Corfu
With us, you get the finest Corfiot specialties and Greek delicacies. Our restaurant impresses with its excellent food and proverbial Greek hospitality. Dishes are mostly made from our own fruits and vegetables, you will taste the difference!
The restaurant is located in Corfu's north, between Sidari and Roda in the town of Karousades, in an olive grove about 1km from the main road. We are spared from large tourism flows and have a very idyllic location.
Free parking facilities and free Internet Wi-Fi are available to you at any time. We like language skills in Greek, English and German.
"Yialos Beach" is released to the left and right of the imposing cliffs and is only 150 meters away from the Taverna. So it's easy to stock up on drinks, snacks and ice cream and enjoy the time.
Try our specialties on a mild summer night and let yourself be pampered with culinary delicacies that you will never forget!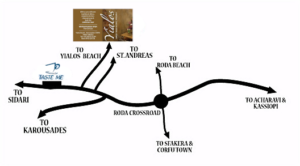 You will find our taverna in the direction of Roda – Epar.Od. Kassiopis – Sidariou Karousades. About 2 km after "Astrakeri Beach" in front of "Tast Me – Ice Cream", with the shield "YIALOS BEACH" on the right side, about 1 km downhill on the left side.
You want to visit us and do not know how to find us?
No problem call us and we will help you
Mobile: +306942624138
We look forward to welcoming you!