Bij ons krijgt u de beste Corfiotische specialiteiten en Griekse delicatessen. Ons restaurant maakt indruk met zijn uitstekende gerechten en de spreekwoordelijke Griekse gastvrijheid,,en,Gerechten worden meestal gemaakt van onze eigen groenten en fruit,,en,je proeft het verschil,,en,Het restaurant bevindt zich tussen Sidari en Roda in de stad Karousades,,en,in een olijfgaard op ongeveer 1 km van de hoofdweg,,en,We worden gespaard van grote toeristenstromen en een zeer idyllische locatie,,en,Gratis parkeergelegenheid en gratis internet Wifi zijn beschikbaar op elk moment,,en. Dishes are mostly made from our own fruits and vegetables, you will taste the difference!
The restaurant is located between Sidari and Roda in the town of Karousades, in an olive grove about 1km from the main road. We are spared from large tourism flows and very idyllic location.
Free parking facilities and Free Internet Wifi are available to you at any time.We like language skills in English and German.
The "Yialos Beach" is released to the left and right of the imposing cliffs and is only 150m away from the Taverna. So it's easy to stock up on drinks, snacks and ice cream and enjoy the time.
Try our specialties on a mild summer night and let yourself be pampered with culinary delicacies that you will never forget!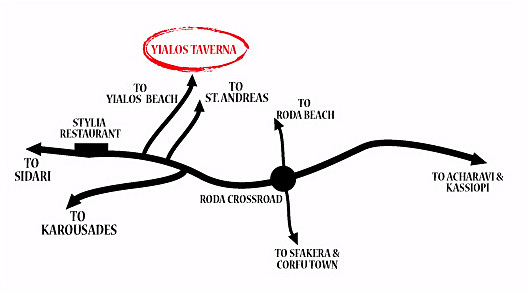 You will find our restaurant from the direction of Roda about 2 km after "Astrakeri Beach" in front of the restaurant "STYLIA", with the shield "YIALOS BEACH,,en,aan de rechterkant van de straat,,en,We zien er naar uit je te verwelkomen,,en,haar familie Pettas,,en" on the right side of the street, vervolgens over 1 km downhill on the left side.
You want to visit us and do not know how to find us? No problem call us and we will help you! Mobile: +30 694 2624138

We look forward to welcoming you